Film Is Not Dead by Jon Canlas
Jonathan Canlas is one of the leading wedding photographers in US. He's loud, he's funny, he's an open book in every sense of the word—even down to the fact that he's now a published author. There is no mask on his beliefs or on his emotions and he's not afraid to let his voice be heard. His unyielding expression of his vision and his tireless pursuit of capturing the light in people and in life have endeared his images to the photography community.
Although he is a giant advocate of film photography, Jon's true passion is his family. Jon, his beautiful and talented wife, Callie, and their six kids live in Hauula, Hawaii. Jon's home and family is the primary feature and expression of joy—and source of inspiration—in his personal work.
The Film Is Not Dead workshop (or FIND) is a match, not a wildfire. And at the end of it, it's up to you to magnify that flame in your life and career—but now with a community of brothers and sisters rooting for you, cheering on your successes and acting as a resource for you to continue your FIND experience.
That's ultimately what makes FIND special: the continual guidance in terms of advice, education, critiques, compliments, and encouragement—because we know that the success of the individual is the success of the family.
BERLIN Michelberger Hotel
The workshop will take place in The Michelberger Hotel, housed in a converted factory building featuring a brick facade, high ceilings, large windows and a courtyard that acts as the social hub of the hotel.
Raw, rebellious and creative – these are the qualities that capture the unrivaled atmosphere and spirit of Germany's capital, Berlin. Constantly recreating itself, East Berlin in particular has become a magnet for creatives in the lasts years and that's where we'll be!
– More info about the conference rooms here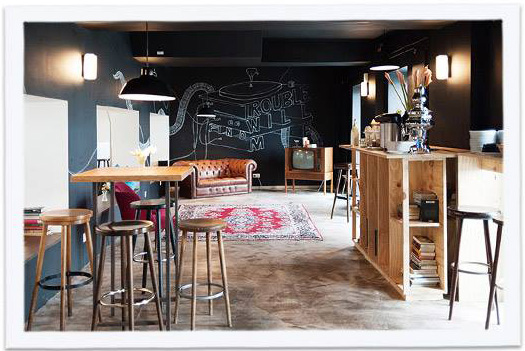 – 1 full day of lessons and practice
– 5 rolls of Kodak film in either 35mm or 120 format
– Carmencita Family presentation
– Breakfast & Lunch
– Presentation
– Film stocks – C41/BW
– FILM: Who, What, When, Why, and How?
– Developing a relationship with your Lab
– Storytelling Through Details
– How to Define Your Voice
– Posing
– Become confident with your gear and when approaching a shooting in film
– Spend more time shooting and less time editing your images
– Clear up any question you may have about film photography & business related
– Learn from the direct experience of Jon and become part of the FIND community
Wanna come? It's easy!
You can do it using the following link here.
That will direct you to Jonathan Canlas instaproofs site were you can place the deposit fee. Feel free to drop him a line with any questions at:
jonathan@jonathancanlasphotography.com
Remember there is only 15 spots available!
A 375$ is required to validate your reservation. As said that is done via Jon's Instaproofs site. The balance will be due two weeks before the workshop starts.
Once done, we will make confirm it to you and the spot is yours!
Accommodation is not included with the booking. But the Michelberger Hotel has great offers on rooms and we are planning to stay around with Jon till night, it would be awesome if everyone could stay in the same place so we can make the best out of the experience!
The official language of the course will be English.
Some american slang words might be used though : )
Berlin is a pretty well connected city, to either reach it by plane, car or train. The hotel is located in East Berlín, easy to get there with the S & U lines next to the stop of Warschauer Straße
For any questions feel free to contact us, we'll be happy to help!
Once the reservation is done you will be part of the mailing list of the workshop with all the updates and specific details before the workshop begins.
We will help you with any questions you have.
Still got questions? Email us! workshops@carmencitafilmlab.com