Hi there!
Hope everyone's having (or about to have) a great Spring Break, Easter or Semana Santa (as we call it in Spain).
Today, by popular request,  we'd like to do a little post on a film that's quite unique for many reasons: meet CineStill 800T.
This film has been brought to life by The Brothers Wright , who made it a reality to adapt to regular film camera use (and regular C41 developing) the amazing film stocks the cinema industry uses.
By means of removing the antihalation "remjet" layer out of Kodak 500T cinema film (and through extensive testing) they effectively adapted this amazing emulsion (which you've seen in countless Hollywood movies) to be processed in regular C41 chemistry and then scanned and/or printed like "regular" film stocks we all use on a regular basis.
CineStill 800T has been tested to be 800 ISO and is tungsten balanced, which means by default it renders tungsten lights as neutral white (which would traditionally be rendered yellow on all other C41 films, which are daylight balanced). Of course the magic of it being C41 allows for much color "interpretation" and thus we've seen pretty amazing results shooting it in daylight with no filters whatsoever.
On the F.A.Q. area of the CineStill website The Brothers Wright have compiled tons of info regarding proper exposure and all the discoveries they've made about this great new film.
From our experience this film works great under many lights but it really outshines other C41 daylight balanced film when shooting artificially lit situations, whether tungsten, fluorescent or a mixture of both!
As a lab we've seen all kinds of test by customers ever since CineStill started to be commercialized in Europe and we've seen that a common error is thinking that 800 ISO and great reproduction of artificial lights will get you away with anything, and it's not necessarily so … we still need correct metering guys! The best results we've seen are by customers who meter with a handheld meter (hence incident light) at 400-800 ISO or maybe meter reflective/spot meter in-camera but for shadows. Evaluative in-camera metering for complex artificial light situations can very easily throw off the meter and make you underexpose your film to levels which will not bring out the best of this film.
A common "error" we've observed is pushing this film to 1600 , 3200 or 6400 ISO and shooting the same values that a digital camera gives you for theses ISOs . As is the case for any PUSH there has to be some kind of "quality" light source on the subject. If that's not the case and there's just a very dim ambient light those 2 stops of chemical push won't bring out your subjects, even if theoretically the meter reading is correct. Again, this also happens when pushing  Portra 400 and has to do with how blacks, shadows and highlights behave when chemically pushing (pretty long explanation, you can read more about it here ).
So yeah, meter for shadows and/or overexpose (as with any C41 film) and you'll get amazing results in the most varied light situations possible!
Oh, and by the way: we've got fresh stock of CineStill 800T available at our online film shop, so go out and do some testing!
We did a little compilation of a few of our favorite CineStill shots that we've developed and scanned recently.
Hope you enjoy these and Happy Easter everyone!

photo by Jan Scholz "micmojo" on CineStill 800T
photo by Miguel Jiménez on CineStill 800T
photo by Benjamin Barlatier on CineStill 800T pushed 2 Stops

photo by Dominique Jahn on CineStill 800T pushed 3 stops

photo by Jan Scholz "micmojo" on CineStill 800T

photo by Dominique Jahn on CineStill 800T with an 85B filter
photo by Albert Roig on CineStill 800T
photo by Isabelle Hesselberg "2Brides" on CineStill 800T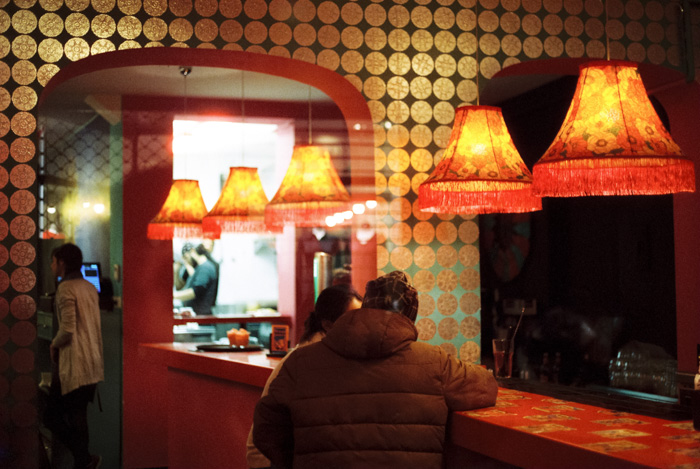 photo by Siegrid Cain
https://carmencitafilmlab.com/wp-content/uploads/jancholzCINEstill.jpg
604
900
carmencita
https://carmencitafilmlab.com/wp-content/uploads/Logo-Carmencita.png
carmencita
2015-04-02 12:20:12
2018-05-11 16:21:35
CineStill 800T Film