LANGUAGE: The course was recorded in Spanish but it's fully translated to English, French, Italian & Portuguese. Don't forget to activate the subtitles by pressing the "CC" button down right 😉
It's finally live! Our course in partnership with Domestika is available online for everyone that wants to dive into film photography. For the last 365 days, our founder Albert Roig worked along the daily lab schedule to concentrate all the knowledge we gathered about film photography for the last 10 years.
The goal was to lay it out in such a simple and easy way for everyone to understand. Making quality film photography accessible to everyone has been in our DNA since day one.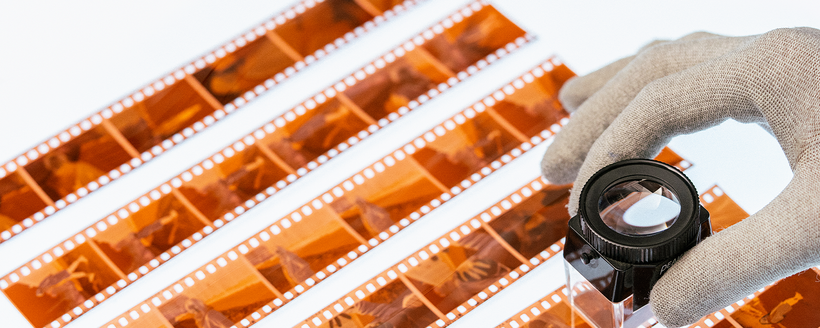 FILM 101
Ever since we started doing our first workshops in Spain with "Claves para disparar analógico" we felt the need to make the course accessible to more people, dismantling that film photography is overcomplicated and only accessible a few.
This course is aimed at everyone that wants to know how to start shooting film and not die trying 🙂 We want to be an open book about every step involving the process of shooting film, from camera types to scanning your film.
The course is very ambitious and covers a wide variety of topics. It contains more than +4 hours of footage and extra resources that will guide you from purchasing your perfect camera, loading your first roll, and shooting in the best light conditions to get those images that you dream of.
The goal of the course is to be a smooth introduction to film photography, so once you are finished, you are ready to start creating the images you have in mind!
SHOOTING
There is a lot of content online about gear, endless videos about cameras and how they work, film tests, and comparisons, but not that many guides you through the shooting step by step. The way you will apply all the knowledge you gathered when taking your portraits will play a major difference in the result you obtain; even with the best camera, film, and model, many other things play a key factor.
Every image we see online is a magnificent puzzle of skill, technic, composition, light, preparation, and luck. We will visit each of these factors during the course and understand their role in our picture and how we can make it work in our favor. By the end of the course, applying the basic rules, we will review you will get out to the world, with your film camera in hand, and start taking those images that you always wanted to capture on film.
PERSONAL EXPERIENCE
In Albert words, "It was an amazing experience since the beginning, I was nervous of course, but there was such positive energy among everyone. One of the best surprises was to realize that many of the crew, from art directors to producers, knew us from years ago, and many were film shooters themselves!
The first day started with the shooting since winter in Madrid is fairly unpredictable, and especially those days, the city had the biggest snowstorm of the decade. So shooting, recording, and explaining what you are doing simultaneously was harder than anticipated. Still, thanks to Esther and her incredible patience in front of the camera, things just started to roll out incredibly well!

It was magical to see how all the studio rooms and sets changed as the courses evolved through the week. At some point, it felt like a beautiful dance of furniture & colors dancing to the pace of screwdriver machines, fast footsteps, elevators ringing, and a distant voice saying, "we need another hard drive for studio 4!" or "Could you tell the cook we will be late for lunch? The lighting needs to be perfect, and we need to rearrange the set again."
Seeing the result of it all a few months later makes it even more worth it; we have been able to put out there a far better course than we could have ever imagined, thanks to Domestika at a super affordable price and pretty complete for anyone that wants to learn the basics of film photography!"
SPECIAL THANKS
All of this would have never been possible without the team behind Domestika, mainly Guille, Camille & Arnau, the dream team behind every scene, and of course everyone from pre-production to scripting, cameras, sound, video editing, and many more faces that we haven't even seen! Making an online course was a dream ever since the pandemic hit us, and there was no other option but to stay at home.
We hope you enjoy it, find it useful, and help many more people fall in love with film photography again!
https://carmencitafilmlab.com/wp-content/uploads/1784_Youtube_Thumbnail_EN.jpg
1080
1920
carmencita
https://carmencitafilmlab.com/wp-content/uploads/Logo-Carmencita.png
carmencita
2021-06-18 17:38:55
2022-06-20 16:35:46
CARMENCITA x DOMESTIKA - Introduction to Film Photography Course